Batiked Aspen Leaves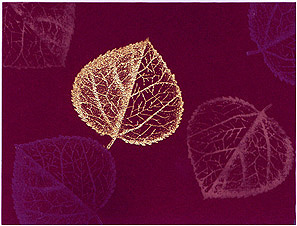 This project shows you how to create a batiked effect using bleach and a stamp.
Materials Needed
One piece of wine colored paper 5 1/2" x 4 1/4"
Colorbox velvet pigment pad
Aspen Leaf stamp by Moon Rose
Household Bleach
Gold Embossing Powder
Heat Gun
Paper Towel

Directions
Dampen the paper towel with bleach and moisten the stamp as you would if you were using a stamp pad. Press the stamp onto the paper and lift immediately. The bleach will gradually lighten the paper and the image wil bleed slightly. If it bleeds too much, you have put too much bleach on the stamp.
Using the velvet colored ink pad, stamp two partial leaves in the corners of the card.. Allow it to dry before doing the next step.
Once the ink is dry, stamp the center leaf. Cover the image with embossing powder and heat.
If you want more information on this technique Click Here


Main Page