Embossed Greeting Card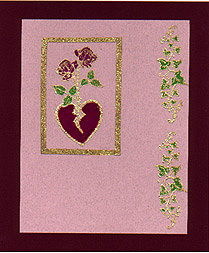 This fancy card can be used for a variety of occasions and, if that isn't enough, we have included a really great hint for embossing straight lines!
Materials Needed
4 1/4" x 5 3/4" rose colored card
5" x 6 1/2" wine colored card
Rose stamp by Moon Rose
Ivy stamp by Personal Stamp Exchange
Gold pigment ink
Gold embossing powder
Magenta brush marker
Green brush marker
1/8" embossing tape
Glue
Heat Gun


Directions
Using the gold pigment ink, double stamp the ivy close to the edge of the rose card stock.
Emboss the image with gold powder.
Using the 1/8" wide embossing tape, create a rectangular box slightly larger than the rose stamp.
Using the embossing ink, stamp the rose into the center of the rectangle.
Peel the protective strip off the embossing tape, sprinkle the tape with powder and emboss both the tape and the rose with gold powder.
Color in both stamped images as shown.
Glue the rose colored paper onto the center of the wine colored paper.
HINT-If you don't have embossing tape, you can use the removable (low tack) Scotch tape which is available in any office supply store. Cut two pieces of tape a little longer than your project. Position the strips on the project-they should be parallel to each other and have a 1/2" space between them (this is where you will put the embossing powder). Press down to ensure an even bond. Coat the open space with a thin layer of embossing ink. Sprinkle with embossing powder. Carefully remove both pieces of tape. Emboss as usual. VOILA-a perfectly straight line.
If you want more information on this technique Click Here


Main Page